Diploma of Veterinary Nursing
We offer three different Diploma of Veterinary Nursing courses that are tailored to advance your clinical nursing in an area that interests you, whilst letting you expand your team management skills.
Not sure which Diploma of Veterinary Nursing is right for you? Call us on 1300 653 728 to talk to one of our friendly Nurse Educators.
Please Note: All the Diplomas of Veterinary Nursing require you to be working in a veterinary clinic and hold the 19 core units of the ACM40412 Cert IV in Veterinary Nursing prior to enrolling. For specific entry requirements, please see each qualification page on our website.
ACM50512 Diploma of Veterinary Nursing (General Practice)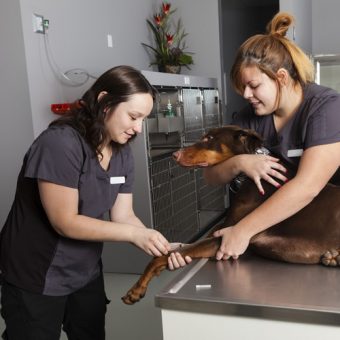 Perfect for you if you are qualified and :-
Working as a senior nurse.
Responsible for a small team.
Involved in training new & junior staff.
Involved in nurse consults.
Looking to expand clinical & management skills.
If you do not meet entry requirements, or if you are only interested in the clinical nursing components of the Diploma, we do have alternative non-accredited courses available in our Professional Veterinary Nursing series.
---
These courses cover the same clinical nursing subjects as their Diploma counterpart (and count as full credit towards them should you wish to enrol later), but have more flexible entry requirements.
---
You do not need to hold a ACM40412 Cert IV in Veterinary Nursing if you are experienced or overseas qualified nurse. You can enrol directly with ACVN.